"
ast-paced, brilliantly written thriller

!"
Read the controversial new action-thriller from acclaimed author Kevin T. Johns
M School is one of the first books in a long time that I read in 24 hours, barely putting it down.

Diana Lester

17-year-old Lilith Delaney has lived a quiet life despite a history of mental health troubles, but when she finds her best friend's mutilated corpse in a high school locker room her world is transformed forever.
Lilith discovers nothing around her is as it seems. A hidden war has been raging in the halls of her school between domestic terrorists and a mysterious agency willing to do anything to stop them.
In hopes of avenging her dead friend, Lilith joins M School, a secret underwater training facility dedicated to transforming teenagers into world-class assassins.
But the longer Lilith spends at M School, the more she begins to wonder if what she's being taught will help her catch her friend's murderer, or just turn her into the very thing she set out to stop... a cold blooded killer.
| | | |
| --- | --- | --- |
| | Watch the M School Book Trailer | |
Amazing, unexpected, and brilliant! Kevin T. Johns takes this unlikely figure and leads her through the entire Hero's Journey. Her path is violent and unexpected; her actions, most of the time, are not in the least bit heroic, but the reader roots for her, and in her growth, we are rewarded
Filled with twists and turns and a fast paced narrative, Johns' latest novel is a guaranteed thrill ride of nonstop action. A must read!

Doug Turnbull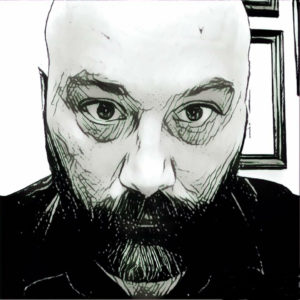 Kevin T. Johns is an author, writing coach, ghostwriter, and podcaster. He grew up reading comic books, watching horror movies, and playing guitar in punk rock bands. He is the author of the young adult horror/sci-fi/fantasy novels, The Page Turners and The Page Turners: Economy of Fear, as well as several other books. He lives in Ottawa, Canada, with his wife and three daughters. On the rare occassion that he has the house to himself, he reads comic books, watches horror movies, and plays old punk rock songs on his guitar.
M School is a great read! Fast, gory, action packed, with fantastic locations. Every bit as good as The 5th Wave, if not better.
| | | |
| --- | --- | --- |
| | Get Your Copy of M School Today | |