Have you ever wondered what best-selling authors like Stephen King, J.K. Rowling, Ernest Hemingway, and Neil Gaiman all have in common?
The answer is surprisingly simple: Confidence
Now YOU can write with that same confidence!
Join the Smash Fear and Write like a Pro online course today to get 70% off, plus a slew of free bonus material!
Hi there,
My name is Kevin T. Johns. I'm an author and a writing coach.
You and I have never met, but I already know a few things about you:
You're worried that your writing isn't good.

You hate the idea of releasing your work before it's perfect.

You feel anxious-jitters every time you begin a new writing project.

You're scared of what critics will say about your writing.
Sound about right?
The reason I know this about you is because I've worked with many authors and these are the fears every single writer faces at some point in their career.
It's perfectly normal to feel that way, and don't worry, help is on the way.
Are you tired of letting fear hold you back from being the writer you know you can be?
It's Now Possible to Approach Your Writing with the Confidence of a Best-Selling Author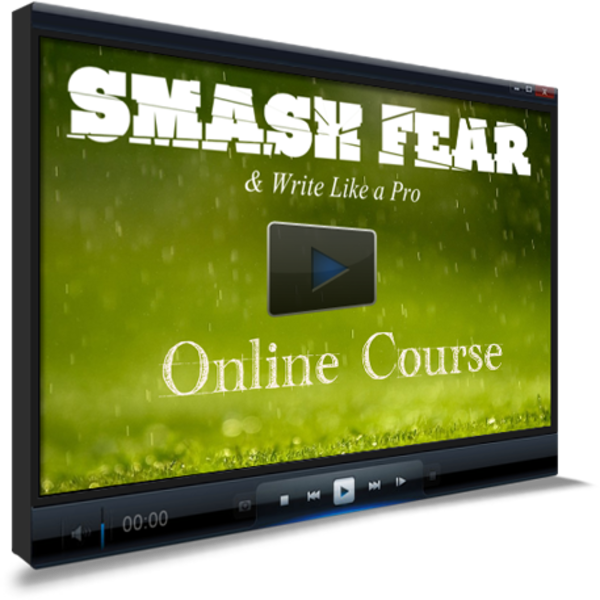 Fellow the easy methods and techniques outlined in my straight to the point, no B.S., online course and you'll soon approach your writing filled with feelings of confidence and joy, instead of anxiety and fear!
In this course, you'll discover...
Why you must identify and conquer the 'Master Fear' behind all others.

Fear of failure, fear of rejection, fear that you and what you write just aren't good enough… we'll cover ALL of these common fears, and you'll learn what to do about the "Master Fear" behind all of them.

Exactly how you should respond to critics, trolls, and haters.

Many writers are terrified of what friends, family, and critics will say about their work. Fear of internet trolls and cruel anonymous haters has stopped many authors from publishing. You're going to learn how to overcome fear of criticism and EXACTLY how to respond to the critics and haters.

Why your art will never be perfect (& why that doesn't matter).

Do your writing projects never actually get completed because you're convinced that just one more draft will finally lead to a perfect manuscript? It's time for you to learn why the endless cycle of revisions is totally futile and why perfectionism must be avoided at all costs.
A creative writing course for writers like YOU
When it comes time to send query letters to agents or seek a publisher, websites like Writer's Digest have lots helpful webinars and courses (starting at $90 bucks a pop!).
But where are the resources for first-time authors, or writer's looking to just get their careers off the ground?
Most writing books and courses focus on the mechanics of writing, but completely fail to address the emotions involved!
Smash Fear, on the other hand, acknowledges that before you need to choose a story structure or learn genre conventions, you first need to believe in yourself.

---
A few years ago I was exactly where you are...
I'm no "writing guru". I'm a regular guy who works a day job and does his writing when and where he can.
Sure I've had a prolific couple of years in publishing, and I've had the opportunity to work with and coach dozens aspiring authors, but it's not that long ago that I was struggling to complete my first manuscript.
I clearly remember what it was like to be where you are. I know the fear. I know the anxiety. I also know that I can help you overcome those feelings.
I started out as self-conscious a writer as there can be, but today I regularly publish novels, instructional books, blog posts, and podcasts episodes, and I'm ready to help you do the same.
Where ever you may be in your writing journey, and regardless of what level of experience you're at, I want to be the person that holds nothing back, only gives you the real truth, and, most importantly, takes you all the way to achieving your writing goals.
Sound good? If so, I want to tell you about the Cyber Monday offer I've got for you...

---
The Cyber

Monday

Smash Fear Super Sale
Smash Fear and Write like a Pro regularly sells for $100, but if you're one of the many people who took advantage of my Black Friday offer, you know I love crazy sales!
That's why for today only, you'll be able to get instant access to Smash Fear and Write like a Pro for only $29.99!
The Cyber Monday Super Sale End in:
Take advantage of Cyber Monday and get the course for only $29.99
If you act now you'll get these powerful bonuses!
Bonus #1 – PDFs of all slides from the course (over 100 slides!), including content, images, and diagrams

You'll be able to review the slides while watching the course for a multimedia experience. Print out the slides and take content specific notes on each of the slides to better organize your learning experience.

Bonus #2 – Downloadable MP3 audio files of the entire course

Download the MP3s to your smart-phone or iPod, so that you can continue to learn while commuting, exercising or doing housework – doubling your productivity!

Bonus #3 – 24/7 email access to a professional writing coach

I get emails from aspiring authors every single day, and I do my best to respond to all of them. These days I'm getting so many emails, however, that I've had to start prioritizing which ones get a swift response. And guess whose email go to the top of the list? My coaching clients and course members!

---
Fast Action-Takers Special Bonus: Access to a Private Members-Only Webinar
(Note: only available for the first 25 people to purchase today)
Later this month, I'm going to host an exclusive live webinar that only students of my online courses will be able to access.
At the webinar, you'll be able to ask me ANY question you want about the course, or about writing and publishing in general.
Only the first 25 people to take advantage of this Cyber Monday offer will get the exclusive invite to the webinar.

---
Want to see confidence in action?
Smash Fear is all about building confidence, so how is this for an example of confidence in action: I'm so confident that you're going to love this course that I'm offering a full 30 day risk-free trial!
That guarantee means that if for any reason you aren't satisfied with the course within the first 30 days, all you have to do is send me an email and you'll get a prompt, 100% money back refund.

---
You Can Achieve Your Goals
I want you to succeed.
That's why I'm offering this course to you at such a discounted price.
I've worked with so many authors that needed to hear the messages in this course, and I've seen the impact it's made on their lives.
I want it to make the same impact in YOUR life.
Are you ready to be the writer you know you can be? Are you ready to harness fear? Are you ready to purchase the course?
Of course you are!