Welcome to The Writing Coach. On this podcast, I speak with the instructors, editors, coaches, and mentors who help writers and authors create their art, build their audience, and sell their work.
In ep. #53 of The Writing Coach podcast, USA Today bestselling author and popular blogger Jeff Goins returns to the show to talk about his new book, Real Artists Don't Starve: Timeless Strategies for Thriving in the New Creative Age.
When Jeff last appeared on the show, back in episode 13, we discussed his book, The Art of Work, which was about how to turn your work into art. Now, with his excellent new book about to launch, we flip the conversation upside down and discuss how creatives can turn their art into revenue generating work.
Real Artists Don't Starve
 dismantles the myth of the starving artist and shows you how you can actually make a living being creative. The book is a guide for how to make a living off your writing and covers stuff like:
How to steal from your influences… in the right way
Why you don't need to be a loner to be a genius
How to take strategic risks (instead of reckless ones)
What it takes to make money off your art
And lots more.
Listen to the episode now!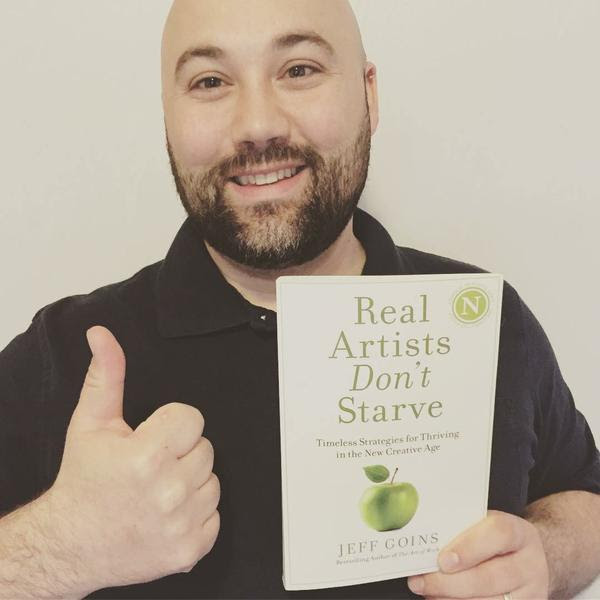 The Writing Coach #53 Show Notes
If you pre-order Jeff's book by 11:59 PST June 6, 2017, you're eligible to receive three special bonuses worth over $200.
Bonus #1: The Real Artists Don't Starve Online Course ($100) – In this 12-part video course, Jeff teaches how to make a living off your art, elaborating on the principles in the book and sharing his own knowledge and experience.
Bonus #2: All the Expert Interview Transcripts – Learn from the hundreds of experts and thriving artists Jeff interviewed during the research of this book.
Bonus #3: Exclusive Community Access – Get special access to a private Facebook group where Jeff will answer your questions regularly and you can connect with others reading the book
To claim these bonuses:
Follow the instructions on the page
Enter your email and receipt number
Collect your bonuses
It's that easy!
The Writing Coach is brought to you by:

Click here to learn more about Writer's Craft Academy
Download the podcast here:
Podcast: Play in new window | Download
Subscribe: Apple Podcasts | Android | RSS